LCQM
WOW!!! We had the official assessment visit in April 2019 and we are so pleased to announce that we were awarded.......GOLD.
Thank you to all the children, staff and parents who have worked so hard to raise the profile of maths, to make maths enjoyable and for making real-life links to maths. Keep up the positive attitude!
We aim to challenge negative views and promote a culture where people readily understand the impact good skills and mathematics qualifications can have on the social, financial, health and employment aspects of their lives.
We also aim to encourage pupils to make connections in their mathematics lessons to real life contexts and with other areas of their school experiences.
The agreed priorities of Liverpool Counts are as follows:
To raise standards in mathematics and numeracy with fun and joy of number at the heart of all aspects of the strategy

To challenge perceptions and change attitudes towards number and mathematics

To raise the profile of numeracy through a range of activities, events and resources with an emphasis on the application to real life contexts
To bring relevance to numeracy through problem solving set in local contexts

To enhance the delivery of the new national curriculum at all key stages and the early years foundation stage

To promote the use of technology to engage learners

To involve parents and the local business and cultural communities
To creating a sustainable legacy of a love of numbers
Quality Mark criteria
The assessment criteria are grouped under six key themes. The Champions are tasked to identify and assign relevant pieces of evidence to the criteria and through a self-assessment and best fit process, decide which award level (Bronze, Silver or Gold) they are currently working at.
We have another fun maths challenge for the May half term!
100 Days challenge
WOW! Look at some of our amazing entries so far. Thank you so much for all the hard work that has obviously taken place. We have had a great selection of posters, photos, information and even a video of a child counting 100 words! The winners will be picked soon, so keep watching this space......
100th Day February Half Term Challenge
We have a challenge for you! What does the number 100 mean to you?
We would love you to explore what the number 100 means...this could be counting 100 pennies, doing 100 star jumps, you might want to find out what Liverpool was like 100 years ago or predict what it might be like in 100 years time: it's up to you.
You could make a poster, booklet, photos...get creative.
Send in your entries and there will be a prize for the winner.
Happy 100 days in school!!!
Maths through stories
World book Day 7th March 2019
As part of our fun day we will be listening to and sharing stories involving maths.
In the meantime have a look at this website to see how you can teach your child all about Maths through stories.
https://mathsthroughstories.org/
Send your photos into school of you and your child sharing maths through stories at home!
Do you want to improve your own maths skills?
Do you want to be able to support your child with their maths?
Then have a look at the National Numeracy Challenge
This free online tool helps you check your own number and maths skills that may be needed in daily life and at work. Improving your numeracy can help you better understand letters from the bank, save for a family holiday or even land that dream job. Simply complete the initial questions in your own time, then a personal review will support you in developing specific skills and maths areas.
Why not also check out.....www.bbc.co.uk/skillswise/maths
If you would like to help your child develop their love for Maths at home then have a read of these websites..
There are lots of helpful hints about how to link maths to real life situations.
This site has some great downloadable images to get you and your child talking about Maths in pictures.
The math-magicians from Year Two got stuck in and helped to prepare some sweet bags to sell at our Christmas fair.
They had to read the correct quantities from the list to make sure each bag was the same. They were told how much the sweets cost per bag and worked out how much profit each bag would make. They had an important job to tell their classes the profit.
"Roll up, roll up only 50p each!!" The Math-magicians did a wonderful job helping to sell Receptions hand made Christmas decorations. They had to recognise the different coins and also hand out the change to parents.
The Math-magicians from year 1 had a very important job of choosing some prices and making signs for the Christmas fair!
Parent Workshops
A big thank you to all the parents and carers who attended our math's workshops. We hope you learned lots of helpful hints about how maths is all around us and how you can help promote 'numeracy for life' at home. Well done to our Math-Magicians too! I'm sure you'll agree that they did a great job demonstrating the different activities.
If you couldn't make the maths workshops then have a look at the powerpoints below....
Some children in Reception have had lots of fun playing board games in our club. This has helped them learn to take turns and to develop their counting skills and number recognition! Check out the 'Clubs' page under 'children'.
The children in Reception love to learn maths outside! Have a look at their fun maths activities.
Real Life Maths!
It is very important that the children understand that maths is used in all aspects of life. They had to use repeated patterns to decorate their Christmas hats.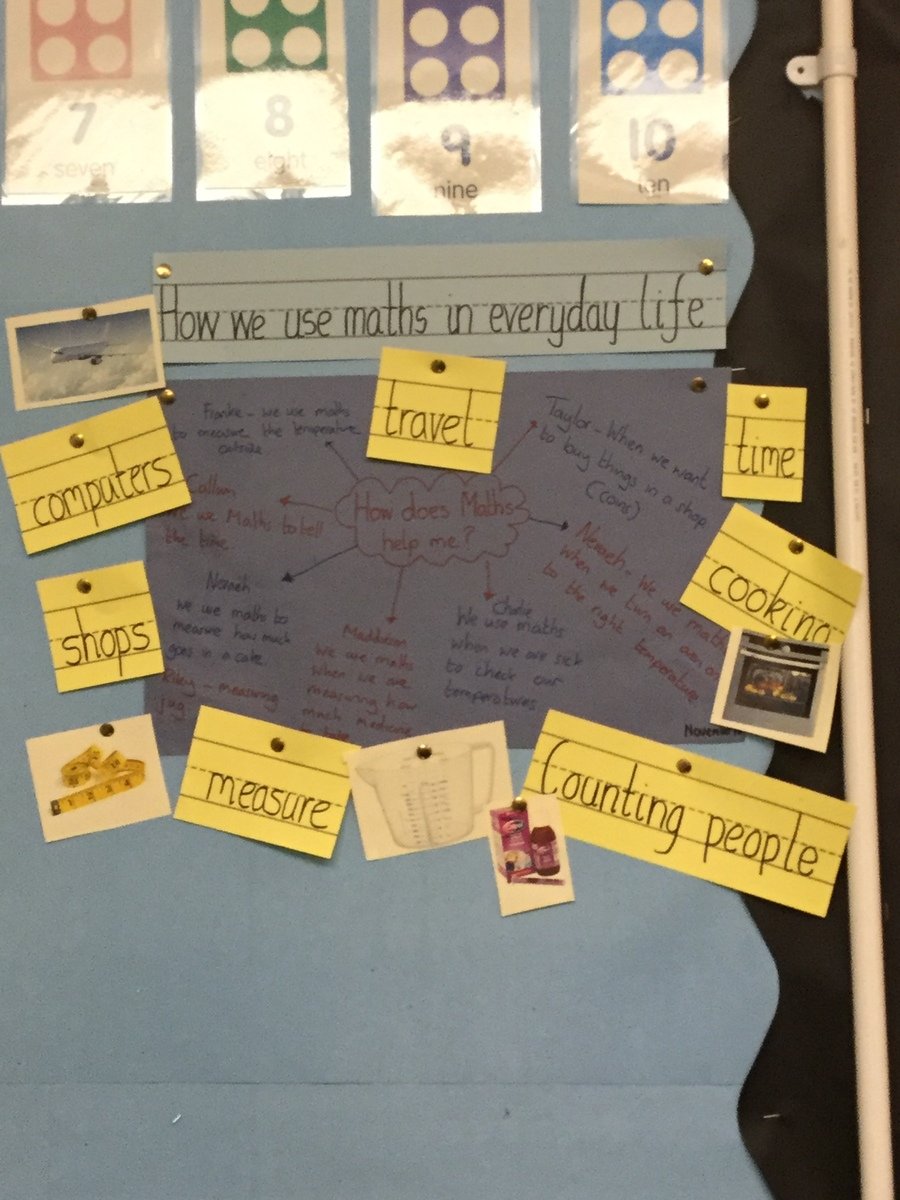 The children in Reception have been helping Mrs Bell in the office by doing their own class lunch tally charts. They are learning to record with marks to show how many children would like a school dinner, jacket potato, packed lunch or school deli.