LCQM (Liverpool Counts Quality Mark)
WOW!!! We had the official assessment visit in April 2019 and we are so pleased to announce that we were awarded.......GOLD.
Thank you to all the children, staff and parents who have worked so hard to raise the profile of maths, to make maths enjoyable and for making real-life links to maths. Keep up the positive attitude!
Teaching For Mastery
We embarked on a four year maths mastery journey in 2019.
Mastering maths means children 'acquire a deep, long-term, secure understanding of maths, which will enable them to move onto more advanced activities' (NCETM; National Centre for Excellence in the Teaching of Mathematics).
The Five Big Ideas
The 'five big ideas' underpin teaching for mastery.
These are:
Coherance
Representation and structure
Mathematical thinking
Fluency
Variation.
These ideas are incorporated into our day to day maths lessons allowing children to make connections and develop a deep understanding.
If you would like to find out more about Mastery maths you can visit this website below:
We aim to challenge negative views and promote a culture where people readily understand the impact good skills and mathematics qualifications can have on the social, financial, health and employment aspects of their lives.
We also aim to encourage pupils to make connections in their mathematics lessons to real life contexts and with other areas of their school experiences.
The agreed priorities of Liverpool Counts are as follows:
To raise standards in mathematics and numeracy with fun and joy of number at the heart of all aspects of the strategy

To challenge perceptions and change attitudes towards number and mathematics

To raise the profile of numeracy through a range of activities, events and resources with an emphasis on the application to real life contexts
To bring relevance to numeracy through problem solving set in local contexts

To enhance the delivery of the new national curriculum at all key stages and the early years foundation stage

To promote the use of technology to engage learners

To involve parents and the local business and cultural communities
To creating a sustainable legacy of a love of numbers
Quality Mark criteria
The assessment criteria are grouped under six key themes. The Champions are tasked to identify and assign relevant pieces of evidence to the criteria and through a self-assessment and best fit process, decide which award level (Bronze, Silver or Gold) they are currently working at.
Maths through stories
As part of our fun day we will be listening to and sharing stories involving maths.
In the meantime have a look at this website to see how you can teach your child all about Maths through stories.
https://mathsthroughstories.org/
Send your photos into school of you and your child sharing maths through stories at home!
If you would like to help your child develop their love for Maths at home then have a read of these websites..
There are lots of helpful hints about how to link maths to real life situations.
This site has some great downloadable images to get you and your child talking about Maths in pictures.
The Math-magicians from year 1 had a very important job of choosing some prices and making signs for the Christmas fair!
If you couldn't make the maths workshops then have a look at the powerpoints below....
Real Life Maths!
It is very important that the children understand that maths is used in all aspects of life. They had to use repeated patterns to decorate their Christmas hats.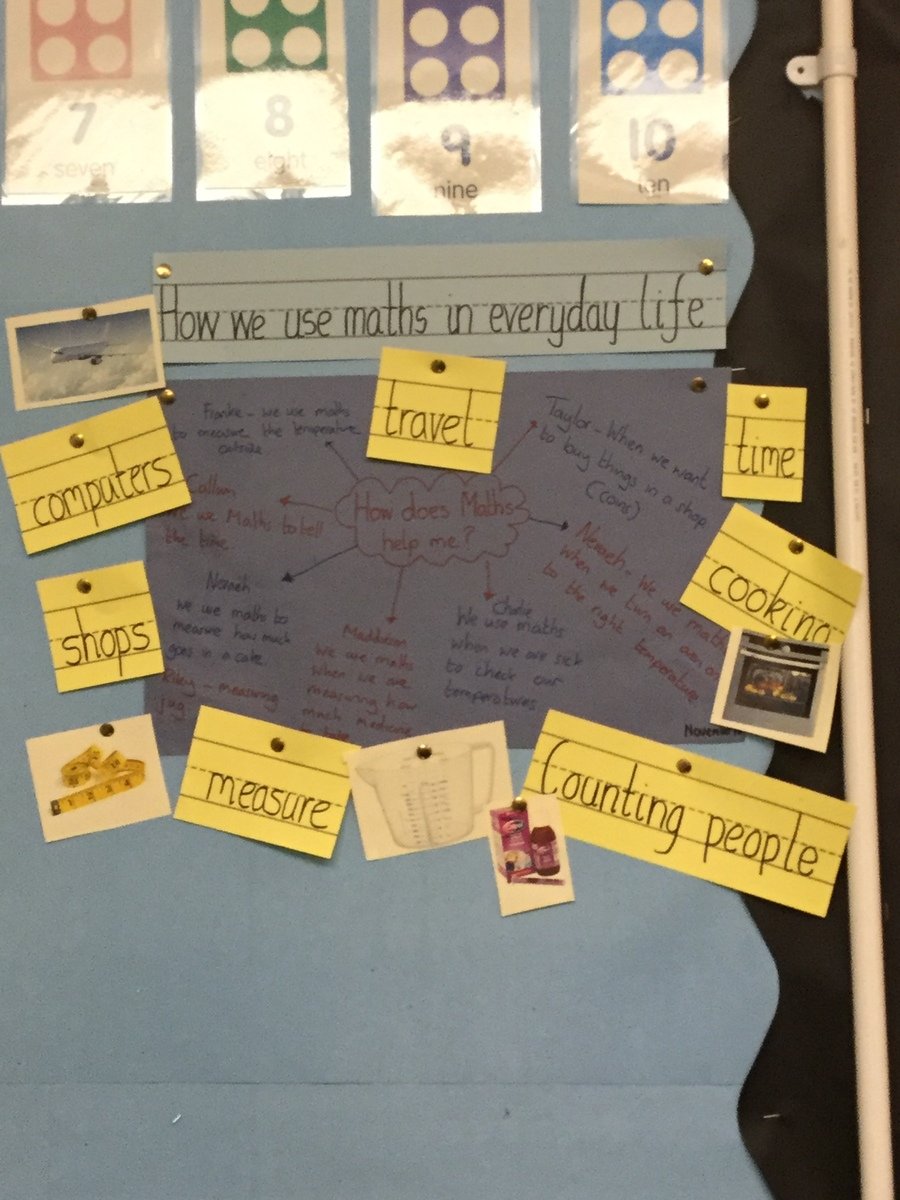 The children in Reception have been helping Mrs Bell in the office by doing their own class lunch tally charts. They are learning to record with marks to show how many children would like a school dinner, jacket potato, packed lunch or school deli.